About Our Company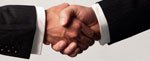 East West Software is a new IT company, based in the Netherlands.

Director Joost Mattheijssen studied IT at the Eindhoven based Fontys University. After working for several big IT companies [Apple Inc, Ricoh] he launched East West software in december 2009.

East West Software focusses on IT services for small and medium sized businesses and organisations. These services are mainly web related [design, S.E.O. and language support], but can also exist of business software. Furthermore, East West Software offers offshoring support of bigger projects to the east.

Due to not only doing several IT projects with companies in Moscow, India and Bangladesh but also actually living there for years, Joost is able to understand the local cultures and has built up extensive contacts there.